The Velvelettes - Lonely Lonely Girl Am I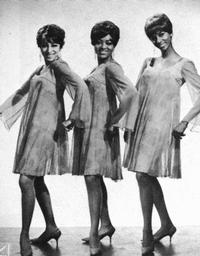 The Velvelettes
As a soul and funk collector I have to admit that I have taken Motown and it's associated labels for granted for a long, long time. I can attribute this negligence to two things:
1. My initial exposure to soul music – as a kid in the 70's – was via oldies radio which has a propensity to overplay a dozen or so painfully obvious Motown cuts, i.e. 'Stop In The Name of Love' by the Supremes, 'I Can't Help Myself (Sugar Pie Honey Bunch)' by the Four Tops, 'My Girl' by the Temptations etc. As wonderful as many of these records are, familiarity breeds contempt and by the time I started actively pursuing soul 45s, Motown was low on my list.
2. My tastes in soul, for a long time, ran more toward the grittier southern heat generated by labels like Stax and Goldwax. My Motown-phobia was first conquered in the mid-80's when my search for the original version of 'Leaving Here' (which I first heard by UK mid-60's R&B giants The Birds) led me to Eddie Holland's original on a compilation of "rare and hard to find" Motown tracks. It was on this CD that I was first introduced to Shorty Long, Brenda Holloway and the Velvelettes. In the ensuing two decades, my tastes in soul have broadened considerably (especially toward the 'Northern Soul' sound which would not exist without Motown) and my knowledge of the depth of the Motown catalog (including Gordy, Tamla, Soul, VIP and other associated labels) has increased considerably. The scales have fallen from my eyes and many, many brilliant records have been revealed. As I said before, one of the groups I was first exposed to via that rarities CD was the Velvelettes. The track on that disc, 'A Bird In The Hand (Is Worth Two In The Bush)' became a fixture of my mix tapes, and as time went on I became aware of more brilliant tracks by the group including the storming 'Needle In A Haystack' which was an R&B #1 record in 1964, and 'He Was Really Saying Something' which I first became aware of via a cover version by Bananarama & Fun Boy Three in the 80's. The group only released six 45s between 1963 and 1966 (many written or produced by Norman Whitfield). This past summer my father-in-law was gracious enough to acquire a huge lot of old 45s for me and bring them down to NJ for my perusal. As I spent several evenings digging through the boxes, separating the wheat from the chaff, I pulled out anything that I recognized or that looked interesting. One of these was a Velvelettes 45 on V.I.P. that I had never heard of, 'Lonely Lonely Girl Am I'. At first I didn't hold out much hope for the record as it had scotch tape on the run in groove and looked kind of poorly taken care of. Fortunately I was able to remove most of the tape and debris, and when I finally dropped the needle on the record I was blown away. This was one of those rare records that reveal themselves as future cornerstones of your personal taste before the first chorus is over. A record so good that I was immediately confounded by an excited mixture of "how could I have missed this record?!?" and "How quickly can I re-cue this record after it finishes?". Written by Whitfield, Eddie Holland and Eddie Kendricks (and produced brilliantly by Whitfield) 'Lonely Lonely Girl Am I' is just over two minutes and eleven seconds of dancefloor soul brilliance. Opening with a fanfare of strings and drums, and a propulsive beat led by a ringing tambourine, the song sports one of the finest melodies in the Motown arsenal, a stunning lead vocal by Carolyn Gill, and a great hook in the chorus. It is simply one of the most remarkable 45s to come out of Detroit in the 1960's and that it wasn't a huge hit is mind boggling (at least to me…). Someone at Motown had confidence in the quality of the song. It was first recorded by Jimmy Ruffin in 1964 (as 'Lonely Lonely Man Am I"), by the Velvelettes in 1965, the Temptations in 1966 and Chuck Jackson in 1968 (though it should be noted that the male versions of the tune are taken at a much slower tempo). The Velvelettes never recorded a full album, though all their official releases (as well as a fair amount of unreleased material) are available on a single disc UK Tamla/Motown "Best Of.." and a deluxe (also a UK release) 2CD set that includes live tracks, alternate takes etc. and is available at Dusty Groove. Buy one of them (or find the 45s) and start dancing.