11/29 - Dave Van Ronk - RIP (2 years late...)
This past week I found out that Dave Van Ronk had passed away. I also found out that this sad event had taken place almost two years ago. First I felt sad. Then I felt stupid. Van Ronk is one of those artists that record collector/professional obscurantists like me hold close to their heart. He had an explosive, gravelly voice that carried in it the notes and tones of all great American music from the earliest folk songs, spirituals, sea chantys, hot jazz, blues pop and rock. One of the early cornerstones of the American folk revival (the one that birthed everyone from Odetta to Dylan), Van Ronk was forever hovering (unjustly) on the periphery. He was the kind of artist for whom the term cognescenti was invented, if only to have a small but devoted group of people know who he was (not that that ever put bread in anyone's mouth – or wallet). I first saw and heard Dave Van Ronk in 1976 or 77, when PBS broadcast a Memorial Concert for Phil Ochs. I remember a bunch of familiar faces (though Van Ronk is the only one I'm sure of now), all gathered for the sad task of remembering once great troubadour, turned tragic suicide. I can't remember exactly what he performed, but Van Ronk made a serious impression on me. It was his voice. If someone like Judy Collins has a voice like a bolt of velvet, Van Ronk had the same roll of fabric, soaked in whiskey and cigar smoke and wrapped in razor wire. From that day on, Van Ronk and his music occupied a place in my mental archive. I was always on the lookout for his old records (and occasionally new ones). His early stuff, on Folkways, Prestige and Mercury was very cool, with Dave covering Blind Lemon Jefferson, Mississippi John Hurt, and Dylan (for the first time anywhere) among others. His versions of 'Come Back Baby' and 'Cocaine Blues' are definitive. In the mid-60's he dabbled – briefly and obscurely – in pop/rock on albums for Verve (if anyone has a copy of 'Dave Van Ronk and the Hudson Dusters' they wish to part with please e-mail me), and the results, while incongruous were actually quite charming. He even did an album with a Dixieland jazz band. Through the 60's and 70's he managed to build a varied body of work that carried him further away from the "60's folkie" label into an area where he would more accurately be described as an interpreter of classic songs of all kinds. He continued to perform (and often re-interpret) items from the folk and blues canon, but he did so alongside tunes by Leonard Cohen, Randy Newman and Joni Mitchell (long a favorite of his). It seems likely that Van Ronk was never a bigger star precisely because he refused to limit himself – doomed, like so many other great performers before him, by virtue of his own eclecticism. In the 90's the Gazelle label released a great two CD career retrospective entitled 'A Chrestomathy', defined thusly by Webster:
Main Entry: chres•tom•a•thy Pronunciation: kre-'stä-m&-thE 1 : a selection of passages used to help learn a language 2 : a volume of selected passages or stories of an author While I'm pretty sure that Van Ronk was aiming at definition #2, I like to think #1 is a more apt description (at least in the abstract). The singing of Dave Van Ronk was a language of a kind that pulled elements as diverse as Rev. Gary Davis, Bing Crosby and the Hollywood Argyles together and made them sound like various components of a single thing. The collection is worth finding for the inclusion of 'Garden State Stomp', with lyrics composed entirely of NJ Place names (it's better than it sounds).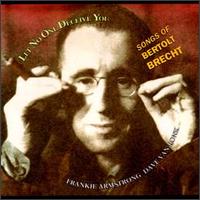 Fast forward to 1992, where Van Ronk collaborated with British folk singer Frankie Armstrong on the LP "Let No One Deceive You: The Songs of Bertolt Brecht". Before you get all wound up wondering what possible enjoyment you might derive from such a collection (philistine…) it pays to remember that Brecht did some of his best work – and most of the songs on this album - at the side of one of the 20th century's greatest (and most consistently interesting) melodists, none other than Kurt Weill. For those unfamiliar with the collaborations of Brecht and Weill, suffice to say that every time you hear Bobby Darin belting 'Mack The Knife', you are hearing the fruit thereof (albeit estranged from it's original title: Die Moritat Von Mackie Messer). That particular song (performed by Van Ronk on the LP) originated in 1928's 'Three Penny Opera' (itself partly borrowed from John Gay's 18th century "Beggars Opera"), one of the great works of the modern musical theatre, and the best know of all Brecht/Weill works. Van Ronk and Armstrong perform several selections from 'Threepenny Opera', and the best of them is the arch, yet nostalgic 'Tango Ballad'. Compared to the version from the 1954 revival (which featured a duet between Scott Merrill and Lotte Lenya), the approach to the song is wry and a little more restrained (though Armstrong's voice is as cutting as Lenya's any day…), and the arrangement has a wistful feel reflective of the inherent sadness in the lyrics. If you are unfamiliar with either Van Ronk or Brecht/Weill, this sublime performance should act as a suitable gateway into their music. The CD has long been a favorite of mine (and strangely enough appears to remain in print). Now that I know the great Van Ronk (sounds like a magician) is no longer with us, I'll be giving it a couple of listens this week.
This past summer the City of New York named a street off of Sheridan Square for Van Ronk. I'll have to stop by to pay my respects the next time I'm in the city.