11/29 - Tony Newman - "Soul Thing"
I picked this 45 up a while back on the strength of a friend's recommendation. 'Blazing Hammond grooves', said he, 'How much?' said I, followed by a brief postal interlude, after which the disc dropped onto the deck of the old GP3 and my ears melted and my eyelids peeled back and my lips flapped around like the guy in the astronaut g-force simulator. Wheeeeee! No, really. It's that good, and there's more to the story. As soon as the needle dropped I knew that I'd heard this song before. Not only that, I'd been looking for it forever and had no idea what it was called. This version, was recorded in the late 60's by UK drumslinger Tony Newman (thus the high-in-the-mix percussion).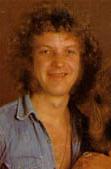 Newman (seen above in various stages of Darwinian ascension) met the definition of "journeyman" musician as well as anyone. He started out as part of UK hitmakers 'Sounds Incorporated', contributed to the catalog of many a group as an anonymous studio dweller, spent some years with Jeff Beck, Marc Bolan and David Bowie and did time in the heavy, heavy bands Three Man Army and May Blitz (know almost exclusively to survivors of the early 70's lager guzzling, soccer hooligan set). The tune, originally composed and recorded by UK library music maestro Keith Mansfield (and borrowed liberally by acid-heads Arzachel for their theme to the UK series "Queen Street Gang"), "Soul Thing" is a funky drums and brass tour de force with generous helping of the aforementioned 'blazing Hammond grooves'. The flip side is an instrumental remake of Bunny Sigler's 'Let The Good Times Roll / Feel So Good' medley, also drum-heavy. Anyhoo…the deja vu aspect of this particular gem…back when I was a kid, the then anonymous 'Soul Thing' was used as the backing track to a "coming attractions" animation at the local cinema (the self-same animation unearthed and reused by Quentin Tarantino for the opening of 'Kill Bill'), and was also used (as it was after all advertising library music) for a local TV station public service ad (sometime in the late 60's, early 70's). I can't say with any certainty whether I was hearing the Mansfield original (though that now seems likely), but the tune definitely struck a chord in my youthful mind (literally and figuratively). US funk and soul collectors (and beatheads hunting samples) are already familiar with library figures like Alan Hawkshaw, via his work as the Mohawks (Champ, Baby Hold On etc.), and library records in general have become a very hot commodity. I don't know if the Newman or Mansfield versions of 'Soul Thing' are available in reissue, but originals of the Newman 45 (released in the US and UK) and Mansfield's UK LPs aren't terribly hard to come by.
Newman later relocated to the US where he worked with country artists like the Everly Brothers and Crystal Gayle.