Keith Mansfield & his Orchestra - Boogaloo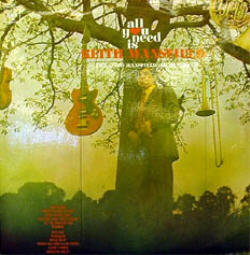 Alan Hawkshaw
Library music (see my previous post about Tony Newman's "Soul Thing") is a strange – but ultimately rewarding – world, the deep exploration of which is best left to the hardcore aficionados. This is not to say that it cannot be appreciated with glee by dilettantes like myself. That is also not to say that 'Boogaloo' by Keith Mansfield and his Orchestra is technically "library" music. While Mansfield was/is one of the genre's most serious practitioners - and it doesn't seem unlikely that 'Boogaloo' could have been used in an ad or as background for a "swinging discotheque" scene on the telly

*

– this particular gem was concocted and served up for the listening pleasure of the general public. 'Boogaloo' originally appeared on the LP 'All You Need Is Keith Mansfield' in 1968 (along with the original version of 'Soul Thing'). The tune is a swinging, ever so slightly funky exercise in magic, in which Mr. Mansfield waves his wand (baton) and conjures up a glittering slice of the Jet Set, zodiac medallions, Nehru jackets, dry gin, dolly birds etc. The opening bars seem cribbed from Herbie Hancock's "Bring Down The Birds" from the 'Blow Up' soundtrack (better know to most as the sample source for Dee-Lite's "Groove Is In The Heart"). The back-up singers drop in along with the drums, and things move along at a nice, breezy pace. Then the flutes and brass come in kicking things up another step, until a horn break, after which things become much more explosively groovy with the addition of none other than Mister Alan Hawkshaw and his mighty Hammond organ. For those out of the loop of all things Hawkshaw-ian, Alan Hawkshaw (another storied UK studio musician and library cat) was the mastermind behind the organ grooves factory the Mohawks (they of 'Champ' fame, another frequently used sample source). Hawkshaw wails on the organ in his inimitable style, with a great cowbell riff cycling in the background. After his solo begins, the singers and the brass drop back in to bring things full-circle. Hawkshaw riffs on the Hammond along with a flute solo and the record fades out. In the end, what you're left with is a serving of stylish perfection. Enough polish and glitz for the lounge heads, enough greasy Hammond for collectors of that particular variety of groove, combined to create a stellar example of the third, heretofore unknown genre of Dancefloor Groovadelics. If you should happen upon a 45 copy of this gem you will also receive the extra added bonus of a non-LP flipside, the also-quite-groovy (and similarly Hawkshaw laden) 'Soul Confusion'.
*Discotheque scene - not unlike any late 60's episode of Playboy After Dark– filled not with young mods but older guys, tricked out in upscale Carnaby-esque knockoffs and up to their ruffled collars in much younger ladies, all doing that generic dance that everyone on Laugh-In used to do.