11/10- 11/11 - Bob Dorough Parts One & Two
Bob Dorough is a force of nature, like the summer wind, the aurora borealis and laughter. Bob Dorough is also – in more concrete terms – a musician. I'll start off by assuming that although you have probably heard his music sometime in the last 50 years (exactly when depending on how long you've been around), you probably had no idea who you were listening to. Born almost 80 years ago in Arkansas, Dorough (most say duh-row, the locals say dora), he has been bouncing around, and making his mark in all manner of jazz and pop music since the 50's. To pin him down as a practitioner of a single style is probably a mistake, though he is best known as a jazz singer, and it's fair to say that most of his non-jazz work (on his own or in support of others) is most definitely informed by jazz. In the early 50's, he worked as pianist/arranger for championship boxer Sugar Ray Robinson's music stage act (that's right…I said "musical") and spent some time in Paris working with future musical co-worker and kindred spirit Blossom Dearie and the Blue Stars. In 1955 he recorded his first solo LP 'Devil May Care' for Bethlehem. I remember distinctly the very first time I played this CD (about 2 minutes after paying for it at the local books'n'music supermegastore), because from the very first note, I knew I was listening to pure, unadulterated genius. Not necessarily genius in the Beethoven/Einstein way (though a little bit I guess) but genius in the sense of a brilliant combination/intersection of talent, inspiration, material, and bright human spirit. It was all there, from the very first notes of 'Old Devil Moon' on through the inspired vocalese of 'Yardbird Suite' and 'Ow'. This guy was an original, possessed of a style so unique – yet accessible – that it ran through me like a bolt of lightning. It was like someone had approached singing the way that Thelonious Monk went at the piano (not exactly, but definitely working the same side of the street). Dorough's music went right to the electrical centers in my brain and triggered the "I need to know more about, hear more from and dig more completely the sounds this person is making" switch in my head. So…I started looking, and strangely enough, remembering….. Back in the day (more exactly the last few years I was in high school) I had a friend – who I have not seen or heard from in many years – who was into jazz (I just "liked it" at that point) and we used to try to get into NYC when they were doing the Newport/Kool/JVC (or whatever the hell is is now) jazz festival and catch the yearly "theme" shows. One year (somewhere in the 1978 to 1980 time frame) that show was a tribute to Charlie Parker, and one of the performers was none other than Bob Dorough. It all started to flood back….At the time I had no idea who Dorough was, but I remember digging his wigged out, quasi-Beat stance, expecially how it stood out against the somewhat stale, "moldy fig" (Google that one kids…) air of tribute and remembrance that was turning Parker's music into history (as opposed to music, which it once was and still should have been…). Not too long after that show, my first encounter with Dorough was stuffed deep into my brain, under crates of BeatlesStonesGaragePunkPsychedelic yadda yadda yadda, frozen in time, waiting to be rescued by newly revivified brain cells and synaptic connections. So…I'm launched into this one man wave of Dorough-mania, and finding snippets of info here and there, and luckily getting to see the man play in person, which is a whole 'nother bag I recommend getting into, and I discover the following: Bob Dorough has in the 50 years since his first LP managed to continue recording quality music, even if it was sometimes for teensy labels Bob Dorough was the ONLY vocalist to record with Miles Davis Bob Dorough was one of the main forces behind Schoolhouse Rock (as writer, arranger, performer) Bob Dorough, along with his running buddy Stu Scharf arranged and wrote a lot of interesting pop music in the 60's, including working on some LPs for Spank & Our Gang among others And those are just the obvious things. The more I dug (literally and figuratively) the more I realized what an interesting and talented guy this was. His career is so full of unusual detours and diversions that it would be nigh impossible to lay it all out comprehensively, so I decided to grab some of the high points and lay them out. If you see something you like, follow it (like I did).

The 'Devil May Care' album is essential. It's the perfect introduction to Dorough's unique style and wiggy enough that if you're not all over the standards he covers, you will be when he's done. It's still in print, and ought to be grabbable. He also did a bunch of other stuff for Bethlehem, including a small role in their 'Porgy and Bess' (starring Mel Torme) and working (with Sam Most among others) as a pianist – a role that he fills quite well. As far as I know only the Most stuff is available in reissue. One you might want to try to track down, from around the same time is an LP called 'Jazz Canto' (World Pacific). The album, put together by California poet Lawrence Lipton (father of scrumtrilescent celebrity interrogator James Lipton of 'Inside the Actors Studio'), the disc contained a series of collaborations in which poetry (by Langston Hughes, Philip Whelan, Lawrence Ferlinghetti among others) was set to a jazz backing, with recitations . Dorough does Ferlinghetti's 'Dog' and 'Three Songs by Langston Hughes: Daybreak In Alabama, Night and Morning and The Dream Keeper'. All in all very swinging and all you would expect – and more – from a such a Beat era collab. As far as I know this has never been reissued. My copy set me back around $25 on Eeeeeeeeebay. Also recommended for John Carradine completists… The Miles Davis collaborations apparently came about because Davis had seen, and dug (digged, dag??) Dorough, and became possessed of a whim to have him sit in on some of his sessions with the mighty Gil Evans. The results are interesting. Not the best stuff either of them did, but the sheer value of hearing the sounds made when three great musical minds were in the same room together is worth it. They laid down 'Nothing Like You' (cowritten by Dorough and Fran Landesman), 'Blue Xmas' and instrumental versions of 'Devil May Care' and 'Nothing Like You'. Outside of the 'Miles Davis/Gil Evans' boxed set, the vocal of 'Nothing Like You' showed up years later on Davis' 'Sorcerer' album (and appears on the CD), 'Blue Xmas' has appeared on a couple of Christmas jazz comps, and the instro version of 'Nothing Like You' appears as a bonus track on the Verve CD of 'The Individualism of Gil Evans'. One of the weirder artifacts in my Bob Dorough collection is the LP by the Medieval Jazz Quartet, a group composed entirely of recorders (of various pitches). Recorded in 1959 the recorder-ists are backed by Paul Motian on drums, Al Schackman on guitar and George Duvivier on bass, and play a variety of standards in a Medieval Times stylee. Strangest of all is that if you Google "recorder" and "Dorough" together it becomes apparent that his work with the lowly recorder extended to writing music for the instrument that's still used today. Crazy man…crazy. Dorough is also co-composer (with Ben Tucker) of 'Comin' Home Baby'. Swung most heavily by Mel Torme, the tune has been recorded countless times by folks as wide ranging as the Downliners Sect, Mashmakan and Timi Yuro.

The other easily located "early" work by Dorough is the 1966 LP 'Just About Everything'. This disc has Dorough laying down great originals like 'The Message' and the title cut, as well as covers of Bob Dylan and Hoagie Carmichael (reprising 'Baltimore Oriole' from 'Devil May Care'). While any Bob is good Bob, I've always found this disc to be kind of tame and mellow compared to a lot of his other work. If you like your grits plain, start with this one and move on to something heavier (I don't want you to hurt yourself…). It was around this time that Dorough and Stu Scharf started to work with Spanky & Our Gang ('Lazy Day', 'Like To get To Know You', 'Sundays Will Never Be The Same'), producing, arranging and writing tunes for the group. They also worked on more obscure stuff like albums by Alzo, and Irene Kral. Dorough also played piano on a session recorded in 1968 as part of a group backing Allen Ginsberg on the Verve LP 'Allen Ginsberg/William Blake: Songs Of Innocence And Experience'. I'll end Part One by mentioning one of my fave Dorough obscurities, an EP by the 44th Street Portable Flower Factory. I found this at a flea market, and it sat in one of my record boxes for years before I bothered to read the credits, and discovered that it was a Dorough project. Recorded for Scholastic Books (I think it was given away with a book about popular music/lyrics) it features Dorough on vocals/keyboards and a group that includes Steve Swallow on bass playing mellow, soft-rock renditions of tunes like Donovan's 'Atlantis' and the Youngbloods' 'Get Together'. Pretty cool stuff, and a nice intro into his Schoolhouse Rock recordings. There's also another ep by the group on Scholastic, where they drop the '44th St.' and become just the 'Portable Flower Factory'. I haven't found that one yet…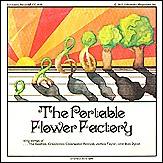 Part 2 – Schoolhouse Rock to the present….
So…Back to Bob…. If you haven't heard/seen Dorough, to say that he's ebullient would be understatement. What's cool is that he manages to be that way without passing over into "cutesy. He's so animated and humorous that it would be easy to overlook how good a jazz musician he is (as pianist and singer). A few years ago, stuffy, Jonathan Schwartz-ish "American Songbook" devotee Will Friedwald wrote a book on jazz singers, in which he was singularly unkind to Bob Dorough. "….anyone that's ever taken singing lessons resents the hell out of Bob Dorough for having the nerve to pass himself off as a vocalist." Suffice to say, Friedwald's idea of jazz singing hinges on folks like Rosemary Clooney (a wonderful singer to be sure, but not the kind I go to seeking "jazz"). The difficulty someone like Friedwald (and you know that fucker wears a bow-tie…) has with Dorough probably begins with the fact that Dorough is not possessed of a "classic" singing voice – no one is ever going to mistake him for Vaughn Monroe. Nor is his style straight-forward or mellifluous (in the standard sense). He's not here to lull you into a Sunday afternoon with the standards reverie as you sip herbal tea and leaf through the New York Times Book Review. His place in the musical landscape it to make you open your eyes and ears, crack a smile and say "Yeah!" (all the while nodding your head involuntarily). The same reaction I had when I first saw a Joan Miro painting; something which is completely outside the realm of convention, yet is nonetheless miraculous. I think what it is I find so remarkable about Bob Dorough is that he and his music exude happiness, humor, wonder and originality and manage to do all that without an iota of pretension. He's like a musical bodhisattva, and I will not hesitate to say that if you do not "get" him, you have missed the train my brothers and sisters. I'm reluctant to use him as a litmus test to divide the cool from the uncool - mainly because the border between those two regions is so fluid – but he kind of works that way. That said….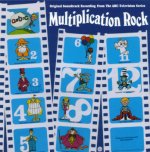 When ABC came up with the idea for Schoolhouse Rock, they picked our friend Mr. Dorough to be musical director. In turn, he brought in folks like David Frishberg, Blossom Dearie ('Figure 8') , Jack Sheldon ('I'm Just A Bill') and Grady Tate ('Naughty Number 9') to participate, and the rest is history. If you were a kid in the early/mid 70's you already had the sounds of Schoolhouse Rock chiseled into your brain, and if you were a kid after that, you probably heard it anyway (since the shorts were reissued on VHS/DVD). The animated musical shorts, covering grammar, math, American history, science and computers all sported original melodies and lyrics by Dorough/Frishberg et al, and performances by all those previously mentioned as well as Lynn Ahrens, Essra Mohawk. Many of these tunes have long since been woven into the great public subconscious (just try singing 'Conjunction Junction' without someone else joining in…), and if in the end, Schoolhouse Rock is what Bob Dorough is remembered for, I don't think he'd be upset. All the music from the series is available in a boxed set (I have that one, and it's worth it) as well as individual discs, the Schoolhouse Rock Rocks tribute, and of course DVD and VHS. Now I know as I go along here I'm missing some stuff. Dorough has recorded a number of albums that are currently unavailable due to the fact that they were recorded for small labels, some of those outside the US. Stu Scharf manages to keep some of Bob's most interesting stuff in print. Among those is his 1970 album 'To Communicate', which includes an amazing cover of the Stones' 'She Smiled Sweetly', and his 1991 LP (composed of material written largely in the 1960's) "This is a Recording of Pop Art Songs by Bob Dorough", both of which are great and highly recommended.

One other LP Scharf sells, "Beginning To See The Light" is a personal favorite. Recorded in 1976 at Concerts by the Sea in Redondo Beach, California, the disc has Dorough on vocals and piano, backed only by longtime musical sidekick Bill Takas on bass, winding his way through 10 tunes. A tasty mix of originals ('I'm Hip', 'I've Got Just About Everything') and unusual covers (Randy Newman's 'Simon Smith and his Dancing Bear' and Dr. Seuss's 'Just Because We're Kids') the album is a great introduction to Dorough, and is HIGHLY recommended. Flash forward to 1997 (keeping in mind what I said about numerous small label works falling between the cracks) and our hero finds himself (finally) on a major label, this being Blue Note. His three (to date) CDs for Blue Note are all worth grabbing.

The first, 'Right On My Way Home' doesn't hit high on the "far out" scale, but it's still an excellent album.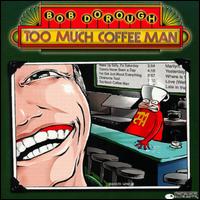 "Too Much Coffee Man" kicks it up a notch (with the title song about and underground commix hero) and BD is in rare form.

His split-LP with Dave Frishberg, "Who's On First" is a good intro, but there's not much here that's new, except of course for Dorough's only major-label (and thus accessible) recording of Hoagy Carmichael's "Hong Kong Blues". There's apparently another small label live set from this year, but I have yet to see it anywhere. In closing….the dude is 80, so do yourselves a favor and go see him in person. Dude is most definitely the shnizzle….