Jesse Hill - Mardi Gras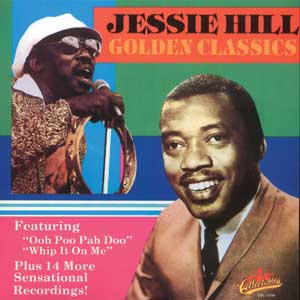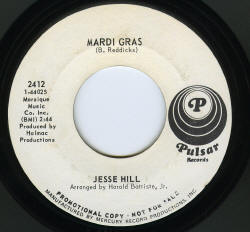 NOTE: Due to some cool recent finds, this weeks posts will be all New Orleans, all the time…

Last week I posted a tune by Larry Darnell. As I said then Darnell was one of several Nawlins old-skoolers who jumped back up just as they were tossing dirt on his casket and funked the hell up (as they say). One of the other cats I mentioned was Jesse Hill. Hill's first (and maybe only) hit was 'Ooh Poo Pah Doo' on the Instant label in 1960, which had the distinction of being the first Allen Toussaint helmed disc to make it big. It was an R&B Top ten hit (Top 30 pop) that became a NOLA standard of sorts, being covered by countless acts in and out of the Crescent City, including the Kingsmen, Ike & Tina, Paul Revere & The Raiders, the Shirelles and Skip Easterling. Hill was a bluesy shouter along the lines of Alvin 'Shine' Robinson. Hill also recorded a version of 'Popcorn Pop Pop', which Eldridge Holmes waxed for Alon. In addition to playing drums with Professor Longhair and Huey Smith, Hill fronted his own band the House Rockers, which at times featured Eddie Lang and the aforementioned Mr. Robinson. Hill moved to California in the mid 60's, working mainly as a songwriter and hooking up with fellow NOLA expatriates Harold Battiste, Mac Rebennack and eventually (again) Alvin Robinson. This was good company to keep because they were for all intents and purposes the folks behind the Pulsar label. Prior to a couple of months ago, I had no idea that Jesse Hill had continued to record into the late 60's. I happened upon a Mod real audio site (which I have been unable to relocate) and saw a link for a Jesse Hill song called 'Mardi Gras'. I assumed it was probably an earlier track, and was shocked to hear hard, funky soul come out of my speakers. There was no other information on the site, so I started beating the bushes to track down a copy of the tune. Some helpful collector types hepped me to the fact that 'Mardi Gras' had been issued on Pulsar, and then an even more helpful collector type agreed to sell me copy. When the disc made it's way into my mailbox (along with another NOLA gem I'm saving for later this week) I was pleasantly surprised to hear that 'Mardi Gras' was every bit as good as I remembered, and the the flip side 'Free and Easy' was even funkier (I'll post that up some other time). Though the writing credits for both songs don't ring any bells, both sides are listed as HALMAC productions (that would be Messrs Battiste and Rebennack) and the band (which undoubtedly includes those gentlemen) lays down some heavy, funky soul. Though I don't have a complete Pulsar discography, the records I do have and the sounds therein would place this gem in the 1968-1970 range. 'Mardi Gras' starts of with some groovy wah-wah guitar and gets into the groove straight away. The lyrics are typical New Orleans party chant with Hill wailing hard and the band cooking just as hard behind him (including the horn sectionlaying down a loose interpolation of 'When The Saints Go Marching In') . He sounds as if he'd been picking up steam steadily since 'Ooh Poo Pah Doo'. The flip 'Free and Easy' is a funkier side with a prominent bass line and a wild backing chorus with a voice that I'd be willing to bet belonged to Alvin Robinson. Hill went on to record an album for Blue Thumb in the early 70's and then returned to New Orleans where his fortunes took a turn for the worse. He passed away in 1996, a broken man. As far as I know neither of these tunes has ever been comped. The time for a comp from the Pulsar vaults is way overdue. Someone? Anyone???