Leon Haywood - Rivers Invitation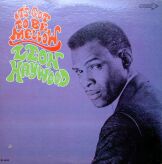 Leon Haywood is a familiar name to soul fans, mainly for his work as a vocalist. His mid-60's hit on Decca, 'It's Got To Be Mellow' is a sweet soul classic. What's less familiar (and in many ways better) is his work as an instrumentalist. Haywood (who was born in Texas but did most of his recording on the West coast) started out playing in Sam Cooke's band and went on to record for a number of labels (including Fat Fish, Convoy and Decca) as both an organist/pianist and vocalist. During the mid 60's, in addition to work under his own name, Haywood played organ on 45s for the Packers

*

and Dyke & The Blazers. His own instrumental work often appeared on the b-sides of his 45s ('Soul Cargo' on Fat Fish, 'Soul On' on Decca) and as album tracks (the funky two part version of 'Ode To Billie Joe' on the Decca LP 'It's Got To Be Mellow'). The 45 we feature today likely predates his Decca work (I've never seen any other 45s on this label) and is one of his finest Hammond sides. The tune 'Rivers Invitation' was composed (and originally recorded) by Percy Mayfield and has been a favorite of organists over the years, with versions by the Wildare Express (with Reuben Wilson) and Gene Ludwig among others. Produced and arranged by LA team Ray Shanklin and Cliff Goldsmith (who were largely responsible for the R&B/soul era of Galaxy Records), the disc starts out as a horn-heavy, big-band style arrangement but soon evolves into a feature for Haywood's blazing Hammond style. The tempo is particularly hard driving and Haywood is given lots of room to shine. Haywood was an excellent organist, but his skill as a vocalist allowed him to continue his career when organ combos fell out of vogue. Even so, considering the high quality of his instrumental recordings, it's a shame he didn't have the opportunity to do more in that department.

*

The great 'Hole In the Wall' controversy: The Packers (a "band" about that has it's own twisted history**) "Hole In The Wall" b/w 'Go Head On' was released on LA's Pure Soul label in 1965. Around that time a 45 was released on the Lu Pine label by Joe S. Maxey 'May The Best Man Win' b/w 'Right On (The Cream)', Maxey's 45 was also released in the UK on the Action label as 'Sign of the Crab' b/w 'May The Best Man Win' (despite the title change, the same tunes as the Lu Pine release). I had heard of the Action 45 and scored a copy on Ebay from a UK seller. Imagine my surprise when I slapped this 45 on the turntable and heard the familiar strains of both 'Hole In The Wall' and 'Go Head On' flowing from the speakers. At first I assumed this was some kind of pressing mistake. The Action label specialized in contemporary UK issues of US R&B and soul 45s (including a number of unusual New Orleans 45s like Eddie Bo's 'Check Your Bucket'). I did some asking around with folks who should know, and was informed that the Lu Pine issue of the 45 included the very same recordings (the plot thickened…). Going back to the Packers Pure Soul 45, it's revealing that Leon Haywood is credited on the label as co-composer of the tunes, and a cursory listen to the disc reveals his playing style. This of course begs the question, how and why did these recordings get released on Lu Pine under different titles (and someone else's name)? This question has remained unanswered. It's also curious that a label like Action, obviously run by soul fans, would go ahead and release such familiar recordings, especially more than seven years after their initial release as by the Packers. Is it possible that they were unfamiliar with the Packers 45 (an R&B Top 5/Pop top 50 hit in the US)? Not likely as it was released in the UK on both the Pye and Soul City labels.
** The Packers – Though founded in Memphis, and ostensibly the band of saxophonist Packy Axton of the Mar-Keys, the Packers records (over a number of labels) feature many studio musicians (and considering Axton's personal history, some may not feature the bandleader at all)