Sonny Jones - Sissy Walk Pt1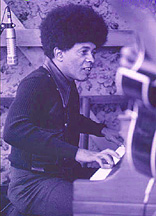 I've been feeling the need to drop some more Nawlins funk, so I dragged (drug) out the ole NOLA crate and selected a coupla groovers to discuss over the next few weeks. The first one is the sought after and tasty-as-a-beignet-on-a-cold-night 'Sissy Walk Pt1' by Sonny Jones on the Scram label. Most of you will know Scram as the home of Eddie Bo (at least in the late 60's/early 70's) and rightly so, since he was largely responsible in one way or another for most of the label's product (despite label owner Al Scramuzza's name popping up everywhere). 'Sissy Walk Pts 1&2' by Sonny Jones is a mid-tempo mover with a supremely funky groove and a cool vocal. It's with the vocal that things get complicated. I've gone over (as much as is possible) the ever more confusing attributions on many new Orleans 45s, Eddie Bo and otherwise. Whether it's strange, pseudonymous writing credits, musicians who get their name on the label but don't perform on the record, or altogether non-existent performers cooked up to circumvent contractual obligations of some sort, the supply of informational dead ends and blind alleys is endless. To start with, there actually is/was a real "Sonny Jones" who recorded in New Orleans, better known as Little Sonny Jones (no relation it seems to the harmonica player Little Sonny who recorded for Revilot and Enterprise). What little information I've been able to find seems to indicate that Little Sonny Jones had retired (temporarily) from the music business before this 45 would have been recorded. The second clue that the vocalist on the 45 may be someone other than Little Sonny Jones, is the fact that the vocalist on 'Sissy Walk' sounds a whole lot like Eddie Bo himself (this in addition to the fact that it is almost certainly Bo on organ and his cohort James Black on drums). I suspect that even if some uber-lawyer – with an uncanny grasp of the statutes- were to swoop down on New Orleans like an avenging angel, set on unraveling this mess and setting things right, he too would end up banging his head on a mossy wall somewhere on Bourbon Street. In the end, we're left with an outstanding example of late 60's Nawlins funk, and though the story is clouded by the passage of time and who knows what else, my instinct tells me that were I to give credit where said credit is due, that trail would lead to none other than Eddie Bo. If I'm wrong, my sincerest apologies to Little Sonny Jones, Al Scramuzza, Tuff City Records and anyone else with a stake in the "Sissy Walk".
This track has recently been reissued on 45 by Vampisoul.