Larry Darnell - Son of a Son of a Slave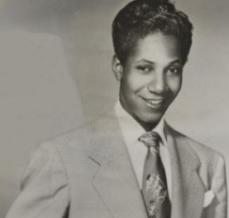 I recently came into some very tasty New Orleans funk 45s (which I will illuminate in this space in due course), but as I have not yet committed these works of genius into ones and zeros, I decided to hark back to one of my very favorite sides from the land of the po'boy. It's no secret that I love the music of New Orleans. A short detour to my web zine shows that I am nearly obsessed with the funky and soul of the Big Easy (Lets see how many euphemistic nicknames for New Orleans I can fit into one post, shall we???). The fact of the matter is, no matter how hard I dig, no matter how much filthy lucre I pass into the hands of record dealers, no matter how much I network with other collectors, I am consistently rewarded with amazing records I knew nothing about. It seems that despite a lack of national success (or due to an unquenchable striving for same) the musical community of New Orleans, Louisiana kept cranking out soulful and funky records. If they only filled the jukeboxes of NOLA and the surrounding region, nobody probably made much money, but those lucky listeners had themselves a helluva good time. I look back to a time a few years ago when my man Haim and I met up at a local record show and he just had to play me a 45 he was holding to sell to some Euro-digger for much money. The disc was on Instant, one of the more common New Orleans labels (with what turns out are some of the most uncommon 45s in the high end of its catalogue). The artist, Larry Darnell was unknown to me, but the title, "Son of a Son of a Slave" was one of those tip offs that the grooves of that seven inches of plastic held some heat. Sure enough, Haim dropped the needle on the disc, and through a tasteful amount of crackly patina swelled the pounding of one of the tastiest drum breaks I had ever heard on a 45 (out of New Orleans or anywhere else for that matter). The vocal was hot and the twanging guitar kept jumping out over the funky beat. My eyebrows lifted, my interest was piqued and my Spidey-sense started tingling. "How", I wondered "am I going to get myself a copy of this record???" This was no easy task. As I suggested earlier, if you're looking for a copy of say Chris Kenner's 'Land of 1000 Dances' on Instant, you and your dearly departed $10 bill will have little trouble collecting said disc and you will be Pony-ing like Bonie Maronie in no time at all. However, were you to seek some of the funkier sides on the Instant label (like some of Kenner's later stuff, Huey Smith's "You Got Too Pt1" or David Batiste and the Gladiators "Funky Soul Pts 1&2", you might have to put Mr. Hamilton back in your wallet and whip out Mr. Franklin to sweeten the deal (or get lucky and score a shall we say "less pristine" copy of any of the above at a bargain price, which is what I eventually did). So, I finally track down a copy of Mr. Darnell's disc from a dealer known mainly for his "liberal" grading policy and frugal attitude toward matters of packing/shipping. Fortunately for me (and you I guess) the copy was crackly, but not so much that I can't still have fun listening to it. One of the coolest things about this record is that Larry Darnell was no rookie when he made this 45. Much in the same way that other NOLA journeyman musicians entered the funk sweepstakes – Eddie Bo, Chuck Carbo, Jesse Hill, Kenner etc – Darnell, who's discography tracks all the way back to 1949 (?!?) was in the autumn of his years as a recording artiste. Darnell proved that an old(er) dog had no trouble at all mastering new tricks and whips the funk on us post haste. He had a great growl to his voice and the backing band (rumored to be the Meters, or at least several members thereof) is kicking ass all over the place. The whole affair was produced (and co-written) by none other than Huey Smith (speaking of your NOLA journeymen) who helmed some very nice records for Instant toward the end of his own career.
On a related note, I will be stepping behind the wheels of steel this coming Friday night at Futurefunk Sessions 2nd Anniversary at Lucky Cat, 245 Grand Street • Williamsburg • Brooklyn • 11211 • (718) 782-0437 . Drop in and say howdy. Listeners can expect to hear much heavy funk.