Diamond Joe - Fair Play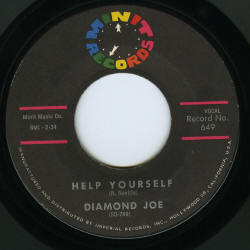 Diamond Joe Maryland is at once one of the greatest soul singers of the 1960's, and also one of the most obscure. His entire recorded output, seven 45's between 1961 and 1968 involved the collaboration/guidance of Allen Toussaint (who composed all but four of the 13 songs Diamond Joe would record). For the full story on Diamond Joe (or at least what I've been able to piece together) check out my article here. Those that follow the sounds of New Orleans closely, Diamond Joe is best remembered for his first 45 'Moanin' and Screamin' Pts 1&2' on Minit – a monumental ballad cum dirge – and the powerful 'Gossip Gossip' on Sansu – one of the great undiscovered soul records of the 1960's (from ANY area). 'Fair Play' b/w 'Help Yourself' was released in 1963 on Minit. 'Help Yourself' is classic early 60's NOLA R&B with a lively vocal by Diamond Joe and rolling piano by Toussaint. It's yet another example of a high quality tune – with lots of pop potential – that probably never got any airplay outside of the South (but should have been a hit). It's good enough to require repeated listens, but also fairly typical considering the folks involved. It's only when you flip the record over that you realize that this is more than your run of the mill Toussaint production. 'Fair Play', composed by occasional Toussaint collaborator Allen Orange (who would also record for Minit) and the great Earl (Johnson) King is a slow, thoughtful ballad with an unusual, haunting melody and a remarkable vocal by Diamond Joe. The arrangement is where things really take a strange turn. Aside from a few opening bass notes, the first thing you hear is someone chiming chords on an autoharp, which stands with the vocal as the most prominent sound throughout the record. As soon as the listener gets past the initial shock of hearing something so incongruous, it becomes obvious that this was an absolutely inspired choice on Toussaint's part. He takes the autoharp, a signature of Carter Family-associated folkies, and uses it in a completely alien context, almost as if he lifted the lid of his piano and ran a pick across the strings. It creates a shimmering base for Diamond Joe's impassioned vocal, and joins the gradually swelling, deeply spiritual backing vocals to create one of the most interesting and atmospheric 45s ever to come out of New Orleans. It really is something of a lost treasure. I found my first copy years ago at a record show, and despite it's miserable condition snapped it up because it was a Diamond Joe 45 I hadn't heard (lucky move there). I fell in love with the record, and it took a long time (but not a lot of dough) to find a clean copy. As far as I know, like much of Diamond Joe's non-Sansu work, this record has yet to be comped/reissued.
PS If anyone has a copy of Diamond Joe's one 45 for Instant, "Too Many Pots" b/w "If I Say Goodbye" let me know. I'd even settle for a tape.