Earl King - Come On Parts 1&2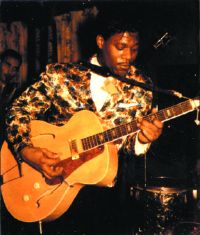 I first heard this song when I was 16 or 17 as covered by Jimi Hendrix on the 'Electric Ladyland' LP. Of course I had no idea it was a cover at the time, and kind of resented this bluesy intrusion on the otherwise thoroughly drug-soaked landscape of that lp*. Flash forward 20 years, and I'm rooting around the dusty back alleys of America for old 45s, most 'specially those that originated in the Crescent City, New Orleans, Louisiana. One of my fave Nawlins singers is the mighty Alvin Robinson (he of 'Down Home Girl' fame, amongst other stellar performances). Well, what should I happen upon but a 45 of Mr. Robinson laying down a tune called 'Let The Good Times Roll', which as soon as I put needle to wax realized was not the old chestnut originally done by Shirley and Lee but a retitled version of the tune I heard Hendrix do, i.e. 'Come On Pt1' (why Robinson, or Leiber and Stoller who ran the Blue Cat label decided to change the title is a mystery). Closer investigation revealed that the tune's composer was none other than Earl King (listed there as Earl King Johnson), known mainly to me as a name from numerous blues bill's, and the tune 'Trick Bag'. So, the years go by, and I keep gathering New Orleans 45's, and I start to realize that Earl King, like rodent crime lord Savoir Faire, was everywhere. In his almost 50 year career, King (born Earl Silas Johnson) recorded for many labels, and wrote tunes that were recorded by many of his contemporaries, in and out of New Orleans. With Wardell Quezerque he co-wrote Curly Moore's "Soul Train" (released on King's own Hot Line label and later cut by Bobby and the Heavyweights on Mor-Soul and Atlantic) and Professor Longhair's Mardi Gras favorite 'Big Chief' (that's Earl singing/whistling on Part 2). King also co-wrote one of my favorite Allen Toussaint produced sides, Diamond Joe's 'Fair Play'. King was possessed of a soulful voice and a gritty guitar style (his biggest inspiration being Guitar Slim), and recorded many of his best sides for the Imperial label (a left coast operation with strong ties to Nawlins, see Fats Domino etc.). 'Come On Pts 1&2', which was released in 1960 is a stop-time rumbler with plenty of room between the verses for King to stretch out on guitar (which he does even more on Pt2). The record has a great dance beat (helped along by a cool horn chart) and it's also cool to hear King's New Orleans accent come through ('They keep a lot of doit up their sleeves…") in the verses. One of the coolest things about Earl King (aside from his songwriting talent) is the fact that his recordings manage to blend blues, rock and roll and New Orleans sounds together so effortlessly. Listening to 'Come On', or tracks like 'Trick Bag' or 'Mama and Papa' (also on Imperial) is a real pleasure. At some point King's Imperial sides were available as a single CD (as were his Ace sides).
*Of course I came to love/understand Hendrix's version of 'Come On'. It took me 20 some years, but whatever....