Eldridge Holmes - A Love Problem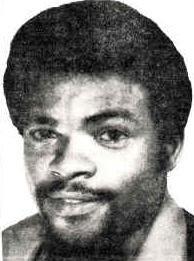 Eldridge Holmes
Eldridge Holmes is a name that most people outside of old-time New Orleans residents and record collectors will fail to recognize. This is a shame because Holmes (in partnership with songwriter/producer/arranger Allen Toussaint) made some of the most memorable funk and soul sides to come out of the Crescent City in the 60's.
'A Love Problem' was released in 1967 as the flip side to his cover of Lee Dorsey's 'Working In A Coal Mine' (not one of Holmes' best records and an otherwise unnecessary remake). It's a slow ballad, highlighted throughout by Toussaint's piano. Holmes, best known for his storming funk sides like 'Pop Popcorn Children' and 'The Book' was a great soul shouter, but for a glimpse of the truly sublime, one needs to check out his ballad performances. Opening with a horn section (featuring a decidedly uncharacteristic muted trumpet) and settling into a slow tempo 'A Love Problem' sees Holmes addressing his woman, who's parents think they're too young to be in love. Unfolding like some French Quarter Romeo and Juliet story (ending short of the twin suicides of the Bard), Holmes pleading vocal is one of the finest examples of Southern soul balladry from the era. He manages to move from an almost conversational tone to moments when his voice soars over the rest of the song. As earthy and soulful as it is, the arrangement at times takes on a kind of "prettiness", especially when Toussaint lays in piano accents alongside Holmes' voice. Together (along with the anonymous musicians and background singers) Holmes and Toussaint managed to create something of great beauty (something they did again the following year with Holmes spellbinding cover of Tim Hardin's 'If I Were A Carpenter'). One of the things you hope for when listening to good (dare I say great) music, are those moments when all the elements (writers, performers, lyrics) that make up the little three and a half minute dramas blend into something transcendent. One of those moments comes at the beginning of the second verse where Holmes sings (in a pas de deux with Toussaint's bluesy piano):
'Something tells me, your Mom and your Daddy they don't like me. But what they fail to realize baby, is whatever will be will be.'
Holmes becomes the boy in the song. The listener gets the feeling that this isn't just another poetic anthem to heartbreak but a brief window into someone else's pained memories. The fact that Holmes himself wrote this song (his collaboration with Toussaint was fairly unusual in that he composed many of the songs they recorded together) suggests that pure autobiography is a possibility. On the other hand, I like to think that a truly great singer is an actor of a sort – bringing the story in a song to life with their performance – and even though Holmes may be "method acting" in bringing to life his own memories in the composition and performance of 'A Love Problem', he does so in a way that is supremely evocative. For a brief moment he makes the listener forget that they are witnessing an artistic conceit, and instead appear to be privy to a real confession, as if you were sitting next to Holmes on a New Orleans bar stool listening to his tale of woe. Whether or not this record effects you as deeply as it does me, it deserves a listen (or four or five), if only to bring back to life this great, but largely forgotten performer.