Eldridge Holmes - An Open Letter (To My Love)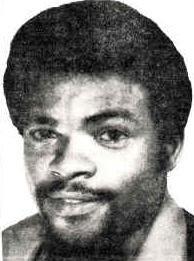 The Mighty Eldridge Holmes
Howdy, doodies. I'm going to try to keep this short today, as I have come down with a wicked case of strep throat, and feel like deep-fried (but lightly salted) crap. Today's selection is by one of my all time fave NOLA artists, and was for a long time a personal holy grail. I finally tracked it down a few years ago, and just dug it out for blog-I-fication this past week. The record I speak of is 'An Open Letter To My Love' by the mighty
Eldridge Holmes
. I decided to run it today for two reasons. Numero One-O:
I already laid down the long form story on the late great Mr. Holmes over at the Funky16Corners web zine a while back. The skinny – as the kids say – can be gotten over there.
Number Dos: It's as solid a slice of deep soul balladry as I've ever heard, and wanting to get a few ballads up in the blog, I decided (being "the decider") that now would be a good time. You need only read my piece on Holmes (
and a previous blog entry
) to see that I hold his work in the highest possible esteem. He was an amazing singer, who laid down R&B, soul, and funk equally well, as well as being another one of the names, close to the top of the 'New Orleans Singers That Should have Been Huge" list. 'An Open Letter To My Love' was the A-side of what I believe to be Holmes very last 45, recorded in 1972. Unfortunately, when I found my copy, it was a promo with the same song on both sides, so I still can't tell you what the B-side, 'Let's Go Steady' sounds like. It's also notable as the only record in the Holmes discography that is not
Allen Toussaint
-associated. That's not to say that it doesn't have an impeccable Crescent City pedigree, having been composed (both sides) by
Charles Brimmer
and produced by the great
Senator Jones
('Miniskirt Dance' et al) on
Earl King's
Kansu imprint. I used to think - because both sides of the 45 were Brimmer compositions - that maybe Jones brought Holmes in and record over existing Brimmer tracks, yet I haven't been able to find any trace of Brimmer having recorded these tunes. The arrangement is taken at a slow pace, allowing Holmes to get in some old-school, down home pleading. The bluesy horns and tremelo guitar provide perfect backing for Holmes monumental performance. Listening to this track (or any Eldridge Holmes record for that matter) leaves you feeling cheated that he spent the last 26 years of his life out of the recording studio. He only managed to record 33 sides in a little over a decade. While he was certainly not the only great New Orleans singer to meet such an unjust fate, his great talent makes his situation seem all the crueler.As far as I know this song has never been comped, and although I've said this many times before (I'll say it again here), the time is long since past for a label like Sundazed to issue a comprehensive collection of Eldridge Holmes recordings.