The Radars - Finger Licking Chicken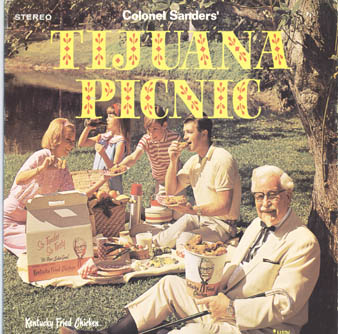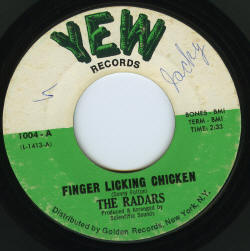 Why this tune hasn't been resurrected in the UK for a KFC ad (like so many others) is beyond me. Picture – if you will – Colonel Sanders (or the cartoon approximation thereof) getting hot, funky and sweaty on the dancefloor, drumstick clutched in his hand, grease running down his crisp, white sleeve as his glasses fog up. It'd make me buy a bucket of extra crispy (like I need coaxing….). One of my fave Philly funkers (I like to spin it next to the NY Jets 'Funky Chicken' on Tamboo), this record initially saw release on the Leoso label with the group listed as 'The Radors' (I have a copy of that too, but I like the Yew label so much I had to post it). The tune was written by Sonny Fulton who recorded for a number of small labels in the 60's also had a single on Leoso, "CBL Pts 1&2" (which, though I've never heard it is rumored to share an instrumental track with this 45). Other than that not much is known about the Radars/Radors, other than the obvious fact that they laid down a supremely funky 45. The tune opens with a 'Harlem Shuffle'-esque fanfare, and the band cranks out a funky beat (with some nice crisp, funky drums). The singer can't stop going on about the delicious "chicken", which must have been really amazing It was:
A. Good to the bone (ok) B. Moan inducing (hmmmmm) C. Really kickin' (I hope not in the literal sense) D. Finger Lickin' (of course) E. Worth pickin'
I think you'll agree that any such chicken (if it is being described accurately) would move even the most stolid person to break into song. Maybe not to the orgasmic extremes of the Radars, but honestly, can you blame them? The Yew label was also home to the sweet soul sounds of the Intrigues.
NOTE: Some people seem to have gotten the impression that the Colonel Sanders cover above is the picture sleeve for the Radars 45 (I wish...). It is in fact the jacket for an actual Colonel Sanders LP (God only knows what it sounds like). It was included here because of the Finger Lickin'-ness of the Radars 45...